Symptom:
The homeowner wants to have their 2nd home at a perfect temperature when they arrive but don't want to waste energy cooling & heating the place when they are not there.
There are two easy ways to do this one is by phone with Venstar thermostat model number T1900 with comfort call model #Acc0433 and the other which gives you much more control is by internet. Of course if you plan on the first plan of action you need a phone line, many people have disconnected their phone lines for their second home and just use their portable phones. If there is a phone line the comfort call model number ACC0400 is a very inexpensive solution and allows the homeowner to check the temperature and humidity in the house, the temperature outside if you install an outdoor temp sensor model #ACC0400 and to change from comfort settings let's say 72 cooling and 70 heating to energy savings when they are not there let's say cooling above 85 degrees indoor temp and 40 degrees indoor temp for heating. The temperatures they desire are set by the homeowner and can be any temperatures they like.
The system is very easy to install (just connect the answering device comfort call model #acc0433 to any phone line and then that device transmits wirelessly to the plug in device at the thermostat. The thermostat must be a Venstar model number T1800 or model number T1900 if you want humidity control. The device will not interfere with the ordinary phone conversations or an answering machine.
A better way is to use an internet wifi enabled thermostat the color touch model T5800 will give you and the homeowner all kinds of ability. You and or the homeowner can change the room temp to any temp you want from any place in the world with a smart phone or a computer. You can set it up to send you and/or the homeowner an e-mail if the temperature in the house gets below or above any temp you set. You can look at any time to see what the weather forecast is for the house for the next 3 days what the high and low temperatures were for outside and inside the house and you can even trouble shoot the HVAC system to make sure everything is working correctly. The thermostat will also send by e-mail and on your and the homeowners i-phone and/or computer service alerts when it is time to change filters, or have the unit serviced.
The phone solution should run about $175 while the WIFI thermostat will cost about $200. You will need to purchase the T5800 and the ACC0454 skyport wifi key to use a wifi enabled thermostat. The home of course will also need to have the internet and a wifi modem.
Model #T1900 / T1800
Slimline Residential Platinum Series Model #T1900 / T1800
3 configurable outputs for maximum flexibility (except T1700)
Heat pump compatible
Backlit, color-coded keys and legends
Large, easy to read backlit display
Configurable programmable or non-programmable
Configurable manual or auto changeover
LED indicator glows green or red to indicate cooling or heating
Service filter and UV light indicators
Fahrenheit or Celsius display
Keypad lock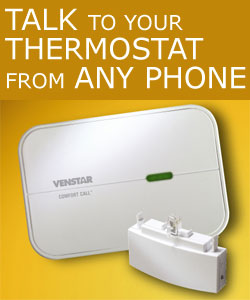 Comfort Call ACC0433
Comfort Call Model #ACC0433
Comfort Call lets you adjust thermostat settings before you get there.
What could be more convenient? Whether your customer is heading for home or a vacation home, a quick call to Comfort Call allows them to change settings on their Slimline thermostat, quickly and affordably.
10 minute installation
Wireless RF Module
Base Station connects to phone line
Comfort Call base station does not have to be in the same room as thermostat
No Setup/Programming necessary
Call to set temperatures from any phone
Compatible with the following model number thermostats: T1700, T1800, T1900, T2700, T2800, T2900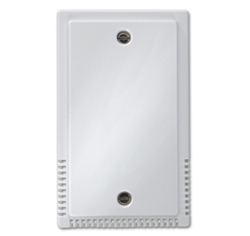 Outdoor Sensor ACC0400
Outdoor Sensor Model #ACC0400
The outdoor air sensor allows the outdoor air temperature to be sent to the thermostat. It can be used with the T1100FS, T1700, T1800, T1900, T2700, T2800, T2900, T2300FS or TSTATEZ thermostats. The high and low outdoor air readouts for the day can be displayed on the T1800, T1900, T2800 and T2900 thermostats.

When used as remote room sensor, the accessory can be used with the Venstar T1800, T1900, T2700, T2900, T2900SCH and T2300FS thermostats. The sensor may sense room temperature where it is installed. The thermostat will control to the remote temperature sensor reading and show a blinking degree icon next to the temperature display on the thermostat.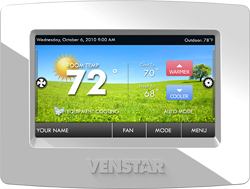 ColorTouch Model #T5800
ColorTouch Series Model #T5800
ColorTouch™ is a multi-functional, simple-to-use, richly featured, programmable touch screen thermostat that thinks it's a digital picture frame. ColorTouch has customizable backgrounds, including the users' own photos, and more than a dozen preset themes, including holiday themes.
Customizable appearance using users' own photos
Built-in nature and holiday themes
ColorTouch Assistant software make configuring fast and easy
SD Memory Card makes import/export between thermostats easy
Engaging screensavers with slideshow, digital and analog clock options
"Simple as You Want" operation lets user customize thermostat info
Scheduler keeps home temperature comfortable
At-a-Glance Screen lets users see temperature and heating/cooling status
Automatically adjust screen backlight with nighttime dimmer
Energy usage info at the user's fingertips
Security features for locking thermostat
Customizable faceplates to match home décor
Automatic daylight savings adjustments, multiple languages, alerts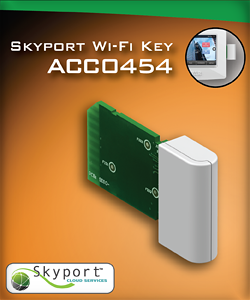 Skyport Wi-Fi Key #ACC0454
Skyport Wi-Fi Key Model #ACC0454
The Wi-Fi Key enables Venstar's T5800 ColorTouch thermostat to access a home Wi-Fi network. Using Venstar's smartphone and/or tablet application (iPhone, Android, Blackberry) you can monitor and control your thermostat from the couch or across town!
Easy Setup
Allows thermostat access over the internet
Locking clip included
802.11 b/g Wireless LAN, Wi-Fi compatible
Compatible with VENSTAR thermostat models: T5800, T5900, T6800 & T6900
Back